Hello everyone!
October is a very special month in Pegasus Fleet. Not only is October 10 our birthday, but 2019 marks our 10th anniversary as a Fleet! I know I'm very excited to celebrate this important milestone with all of you! But first, I have a few staff announcements.
As you probably saw earlier this month, Admiral Rhimer announced his resignation from the PFA. In his words:
"It is with a heavy heart that I announce my resignation from the position of Chief of Fleet Operations. It's a position that I enjoy very much, but at this time I don't feel that I can fill the role adequately for a number of reasons. I've enjoyed working with all of my COs here and helping you along with everything that's been going on. Seeing your sims increase in activity and push forward with new gusto has been a thrill for me, and I'm certain that that trend will continue. I'll be staying in PF, of course, so don't fear the loss of your Flailmaster Supreme. Thank you to the Admiralty for giving me the opportunity to work with them again, and maybe one day in the future we can do so again under better circumstances. I have agreed to remain in the position until a suitable replacement can be found, so if you need anything, if I'm still green, I can still help.

Thank you!
RAdm Joseph M. Rhimer
Chief of Fleet Operations, PFA (Retired)"
I'd like to thank Admiral Rhimer for everything that he has done for the Fleet, both during his tenure as CFOps, and out. Fortunately he will be staying with us in the Fleet and continuing in other roles, though his voice will be missed inside the Admiralty chamber.
But I do have some exciting news. We have selected our new Chief of Fleet Operations. Please welcome to the PFA Rear Admiral William Kelly, also known as @Zerin, our Viceroy of Flail*! Zerin has a strong drive and passion for improving the Fleet, and has already been involved extensively with the Academy. Although relatively new to being a CO, I feel that his excitement for the position and for the Fleet makes him a great candidate for this position. Congratulations, Admiral!
I'm also excited to announce that we have two more staff members joining us this month! Rear Admiral Jesse James is returning to the Pegasus Fleet Admiralty as our new Chief of Public Relations. And Commander Frank Kamar Jr, commanding officer of the USS Pennsylvania, is joining our team of Task Force Commanding Officers and taking the lead in Task Force 37! Both of our new staff members have shown incredible drive and dedication to the Fleet already and have hit the ground running! Congratulations to both of you and we look forward to seeing the amazing things you will bring to the Fleet!
As an additional side note, the Task Force Commanding Officer position for TF56 remains open. Admiral Devane will continue to serve in that role in the interim until a full-time replacement can be found. Because the initial application period has already passed, we will review applications as they come in. So if anyone is interested in joining the Fleet staff as a TFCO, please submit your application using the link at the bottom of this report.
Finally, I'm excited to announce that this weekend we will be celebrating Pegasus Fleet's 10th Anniversary! Following our meeting on Sunday, I'd like to invite everyone to join us for a special celebration of the first ten years of Pegasus Fleet. We're going to take a look at the earliest days of the Fleet, give special recognition to some of our longest serving members, and share some of the stories that make Pegasus Fleet mean so much to us. I hope everyone can join us!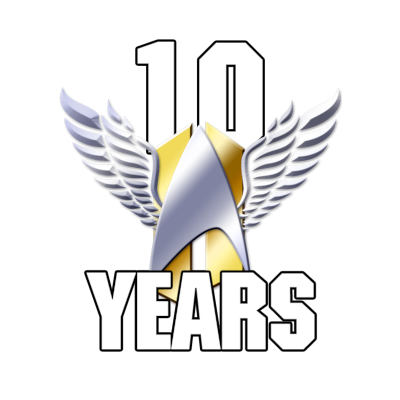 This month's meeting will be held in the #meeting channel on Discord this Sunday, October 13. Because of our Anniversary Celebration, the meeting will start an hour earlier at 2:00 pm EDT / 7:00 pm GMT. The meeting is open to all members of Pegasus Fleet and any guests that may be interested in learning more about our community, or who just want to come celebrate with us. The next meeting will be on Sunday, November 10.
As always, Live Long and Prosper
Alex
*Flailing is not endorsed by the Pegasus Fleet Commanding Officer. Consult a physician before participating in any recreational flailing.
Application for Task Force Commanding Officer
------------------------------------------------
Post of the Month Award
August's Post of the Month goes to:
"Out of every one hundred men..."
by Lieutenant Aleksander Voroshilov and Master Chief Petty Officer Hans-Peter König (USS Astraea)
For the September Post of the Month, follow the link below, check out the nominated posts by clicking "[READ HERE]" next to each nominee, and vote for your favorite.
Voting will close on Friday, November 8, so be sure to make your voice heard. Commanding Officers, be sure to remind your crews so that we don't miss anyone.
Cast Your Vote Now!
------------------------------------------------
Featured Wiki Article:
USS Poseidon
Featured Forum Thread:
Pegasus Fleet Celebrates Ten Years!
For recruitment questions, contact
Rear Admiral Jesse James